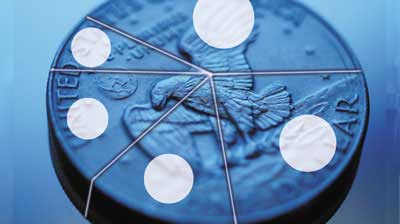 As an individual investor without the worldly means to use complex derivative or hedging strategies, fixed-income is one of the single best ways to control currency risk within your portfolio, explains Michael Fabian, editor of Flexible Growth and Income Report.
In fact, a new offering -- DoubleLine Global Fixed Income Fund (DBLGX) -- has shown that you don't have to be a currency or interest rate expert to capitalize on these recent trends.
I've been enthusiastically watching the daily fluctuations of this actively managed mutual fund since its introduction.
My initial observation is that this fund has already added a lot of value to early investor's portfolios when compared to investing in domestic fixed-income alone.
The fund is unique from DoubleLine's other offerings since it doesn't place an emphasis on intermingling quality and credit securities.
Although it can place up to 25% of the assets in below investment grade debt, the fund is primarily designed to capitalize on interest rate and currency shifts in sovereign bonds of developed foreign nations.
As of the most recent fund commentary letter, the assets are roughly 70% non-US dollar denominated, with Eurozone, Japanese Yen, and British Pound holdings rounding out the largest share of the fund.
Further, the fund's duration is also much longer when compared to DoubleLine's other offerings, with an average maturity in the 7-10-year range.
Other notable factors of the fund are the complete lack of corporate debt, and the general avoidance of emerging market sovereign debt.
The fund is not a yield or income-focused strategy; investors shouldn't expect more than a 1-1.5% yield per year from the fund.
The real alpha opportunity is in the funds' ability to capitalize on interest rates and currency trends, which DoubleLine has shown a penchant for in the past with their other strategies.
On a year-to-date basis, the fund is up 5.63%, which is a solid start overall. More importantly, on a risk adjusted basis, DBLGX exhibited far less volatility than other international bond indexes that we track.
From a strategy perspective, I view the new fund as a unique way to hedge a falling dollar, but to also capitalize on foreign interest rate trends.
It's the type of holding that is likely suitable as a tactical position, but could ultimately transition to a core holding under the right circumstances.
Subscribe to Flexible Growth and Income Report here…
By Michael Fabian, Editor of Flexible Growth and Income Report
More from MoneyShow.com:
Merk's Views: Stocks, Gold, and the Fed
How to Hedge: 3 Ways to Protect your Portfolio